Xpanner NewsXpanner Inc. won the 2022 Shinhan Square Bridge Hero IR-Day Grand Prize
8th July, 2022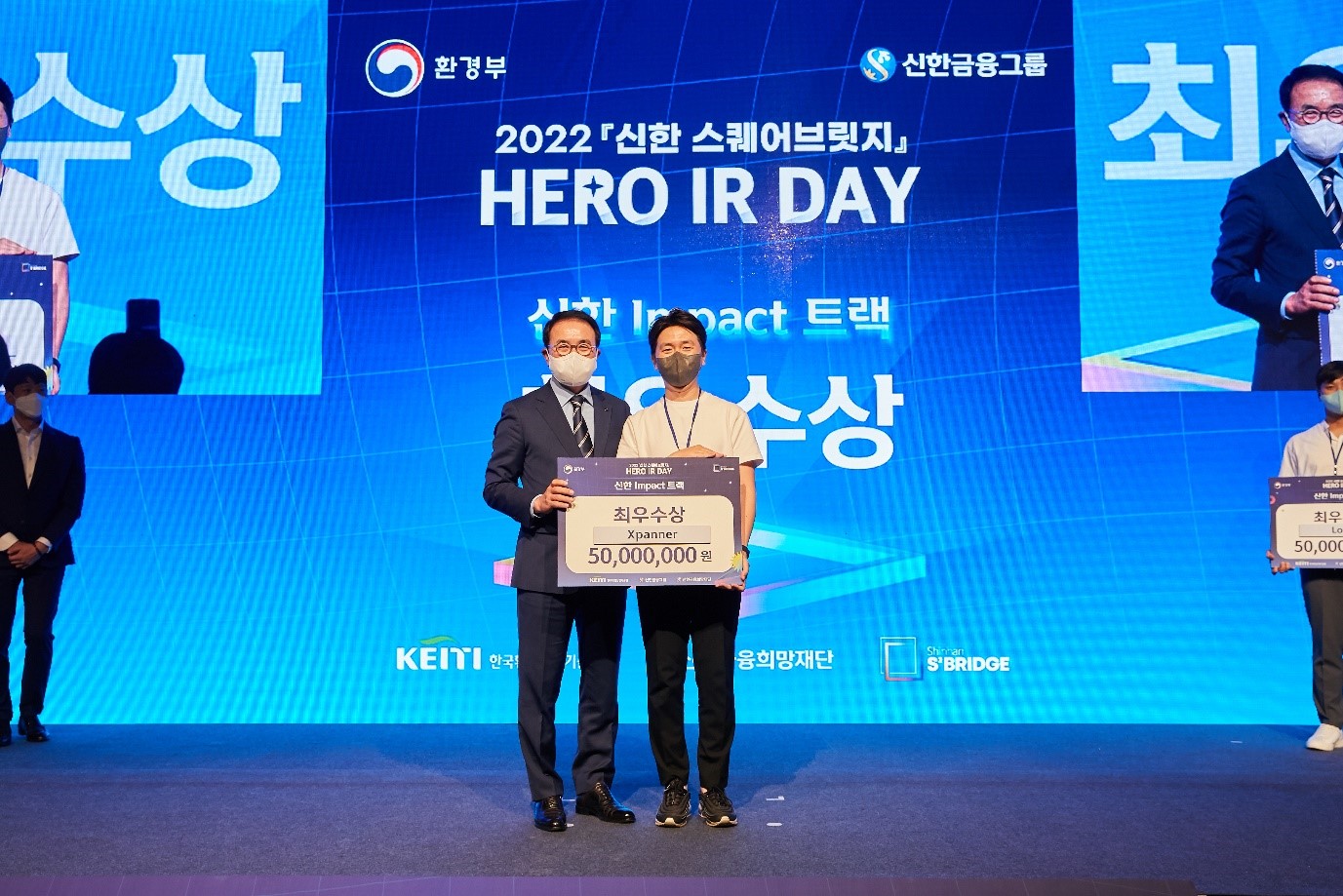 Xpanner Inc., a startup in the construction technology sector, announced on the 14th that it won the grand prize at the 2022 Shinhan Square Bridge HERO IR Day held on Nodeul Island in Yongsan-gu, Seoul on the 8th.
Hosted by Shinhan Financial Group and the Korea Environmental Industry & Technology Institute and sponsored by the Ministry of Environment on the 8th, the contest was held on a total of three tracks: the △ Shinhan Impact track, the △ Environment track, and the △ University student track, and a total of 334 teams applied to overcome the 20-1 competition rate and 17 teams advanced to the finals. Among them, Xpanner Inc., participated in the "Shinhan Impact Track" for startups fostered through Shinhan Square Bridge and won the second grand prize, providing 50 million won in prize money, collaboration with domestic and foreign venture capital and accelerators, and investment attraction.
Xpanner Inc., provides various forms of smart construction technologies necessary for digital innovation in construction sites. From the purchase of individual technologies, a one-stop service that can be actually installed and used, as well as an integrated system of various technologies, is established and provided. It also develops hardware and software on its own. The "Xpanner Connect" connects various data and technologies generated in the field, and the "Xpanner app" connects equipment that needs repair and verified field engineers. Through this smart construction technology distribution innovation and system integration technology development business model, it received the best award at 'Shinhan Impact Track'.
Henri Lee, CEO of Xpanner Inc., said, "We are joined by Shinhan Square Bridge's incubation, accelerating membership, and global membership. I am very happy to be able to participate in such a meaningful event and win the award.", added, "Many people seem to have sympathized with the movement of Xpanner to create an ecosystem so that smart construction technology can be easily and conveniently applied to the site, so I gained momentum again."
Meanwhile, Xpanner Inc. is a start-up in the construction technology sector founded in May 2020, achieving cumulative sales of 5 billion won in two years. It attracted more than 2 billion won in cumulative investment for initial product development and business development, and based on this, it was selected as a Top 50 ConTech company by "Built Worlds." It is currently attracting domestic and foreign investment to accelerate business growth and enter the U.S. market. After incubating and accelerating programs at Shinhan Square Bridge Incheon, it was selected as a global membership this year. Detailed corporate information and business details can be found on the Xpanner website.